Blood Donation Camp at Mangal Bazar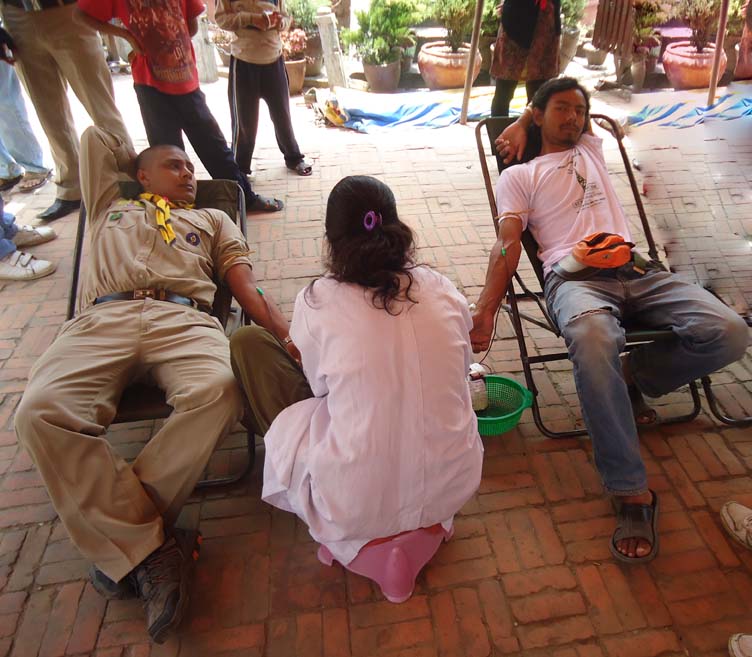 A blood donation camp was organized on Saturday, 9th June 2012 by D.H.Q., Lalitpur, on the occasion of World Blood Donors Day (14 June) with the slogan, "Every blood donor is a hero" at Mangal Bazar, Lalitpur from 10:00 AM to 2:30PM.
Mr. Shree Ram Lamichhane, Chief Commissioner, Nepal Scouts inaugurated the blood donation camp providing blood bag to the donors. Scouters, Rovers and Rangers as well as peoples of the town had participated actively in the program. Joint chief commissioner, Nepal Scouts, Ms. Pushpa Lata Bhattari and The chairman of Blood Donors Association Nepal, Mr. Mahendra Bilash Joshi were also present in the inauguration ceremony.
The program was successful to collect 150 units of blood within 4 hours. But due to health and time constraint, many interested donors were not able to donate blood. The camp was continued in an efficiently and effectively under the active coordination of Scouter Rabin Maharjan. The program was volunteered by Rover and Ranger from Lalitpur District Rover Ranger Crew, Madan Smarakh Ranger Crew, Tri-Padma Rover Ranger Crew and Jitapur Crew. All the arrangements were made under the guidance of Mr. Keshab Maharjan, District Community Development Commissioner.



Other Events