Scouts Awareness Rally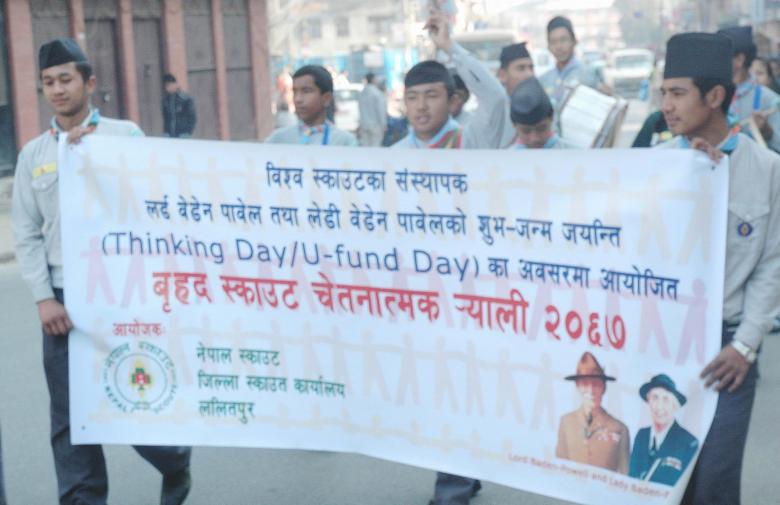 Nepal Scouts District Headquarters Lalitpur has conducted scout awareness rally on 26th February 2011 Saturday.

On the occasion of world Thinking Day/U-fund Day (Lord Baden Powell & Lady Baden Powell's) anniversary the founder of world scout movement. Nepal Scout Lalitpur District has conducted grand rally around 1000 scouts. From 26 scout troops were participated with various awareness informative play cards and banners. Rover Rangers from different crews volunteered to arrange the rally.

The program was inaugurated by District Advisory council chairman/CDO of Lalitpur District and the chief commissioner of Nepal Scouts.The rally was started from the center of world heritage site of Patan City Darbar Square.

Scouter Sagar Maharjan was the coordinator of the rally. At last the district organization commissioner Dev Raj Ghimire delivered the vote of thanks at the closing ceremony of the rally at District Headquarters Lalitpur premises.
Other Events
2nd National Scout Jamboree
We are pleased to invite a contingent of scouts and guides to participate in the forthcoming 2nd National Scout Jamboree being held from 10- 15 April 2013 at Tikauli, Chitwan, Nepal
Read More
Helen Storrow Seminar at Our Chalet
Application for Helen Storrow Seminar is scheduled at Our Chalet from 16-24 March 2013. This is one of the WAGGGS Leadership Development Program (WLDP) events.
Read More
Blood Donation Camp at Mangal Bazar
A blood donation camp was organized on Saturday, 9th June 2012 by D.H.Q., Lalitpur, on the occasion of World Blood Donors Day (14 June) with the slogan, "Every blood donor is a hero" at Mangal Bazar, Lalitpur
Read More
New Year Camp 2069 Effectively Conducted
Nepal Scout, District Headquarters has successfully conducted New Year Camp 2069.
Read More
Lalitpur District successfully conducted New Year Camp 2068
Nepal Scout,Lalitpur District Headquarter has successfully conducted the New Year Camp 2068 at International Scouts Training Center Nuwakot, Kakani from 2067 Chaitra 28th B.S. to 2068 Baisakh 1st B.S.
Read More
Blood Donation Camping
Nepal Scout, District Headquarters Lalitpur organized blood donation camping for celebrating World Thinking Day/U-fund Day.
Read More
District Council Meeting
Nepal Scouts Lalitpur District Council Meeting was held on 8th February 2011. According to Nepal Scouts Act, District council is the supreme body of district headquarters where district education officer is chairman.
Read More